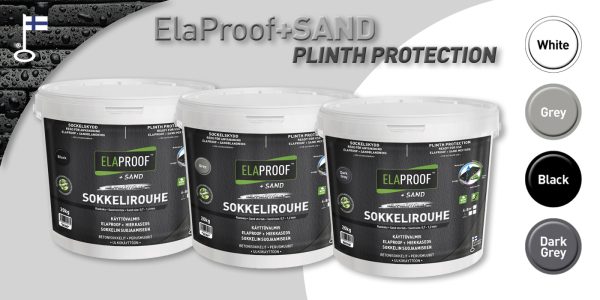 ElaProof+SAND Plinth Protection
253,95 €
Raekoko: 0,7 – 1,2 mm
20 kg | riittoisuus on n. 4-8 m².
ElaProof+SAND Plinth Protection for outdoor use
ElaProof + SAND Plinth Protection is suitable for waterproofing and coating plinths and foundation walls in outdoor use. In the product, the ElaProof coating and the sand are in a ready-to-use mixture. The grain size of the sand (0.7-1.2 mm) is optimized for coating the plinths. If necessary, the dried ElaProof+SAND coating can be treated with clear ELACOAT TOPCOAT or tinted ELACOAT TOPCOAT RAL topcoat to facilitate cleaning and maintenance.
Before starting the coating work, familiarize yourself with the preliminary work required by the surface material of your site.
Application areas