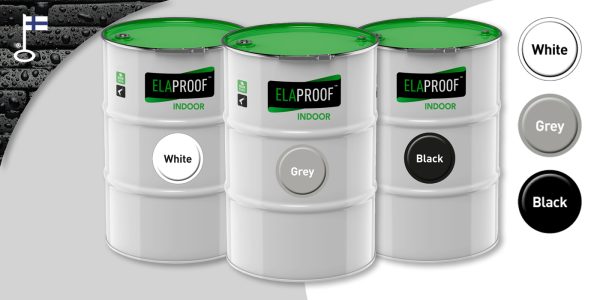 ElaProof Indoor S
4 150,53 €
ElaProof Indoor S – spraymass for professional use
ElaProof Indoor S is a ready-to-use 1-component water-based coating for indoor air sealing and radon protection of structures and buildings. The product's unique elasticity and excellent adhesion to various building materials enable safe and secure sealing.
Emission classes: M1 and Emicode EC 1.
CE approvals: EN1504-2 and EN 13813.
5 good reasons to choose ElaProof Indoor S!
• The best crack bridging ability on the market – 13,9 mm!
• Isocyanate- and solvent-free – safe for environment and people
• The coated surface has no joints – can be sprayed on surfaces in all positions
• Resistant to water and frost – can also be applied to wet surfaces
• M1-emission class and Emicode EC 1
ElaProof Indoor S is listed in the Nordic Ecolabelling construction product database and can be used in Swan-labeled buildings.
Application areas