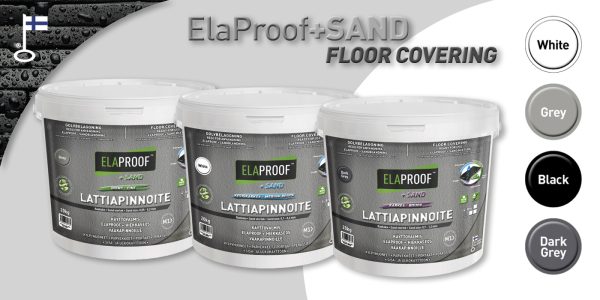 ElaProof+SAND Floor Covering
253,95 €
ElaProof+SAND Floor Covering for indoor and outdoor use
ElaProof + SAND Floor Covering is M1 approved. It is suitable for indoor and outdoor use e.g. terraces, stairs, balconies and bathrooms. In the product, the ElaProof coating and the sand are in a ready-to-use mixture. There are three sand sizes to choose from: fine, medium rough and rough.
The final surface is pleasantly rough and comfortable underfoot, while reducing the risk of slipping. On top of the coating, we recommend the ELACOAT TopCoat treatment to ensure easy keeping of the object.
The floor surface can be e.g. chipboard, plasterboard, concrete, ceramic tile, plastic mat, epoxy, acrylic and polyurethane mass. Before starting the coating work, familiarize yourself with the preliminary work required by the surface material of your site.