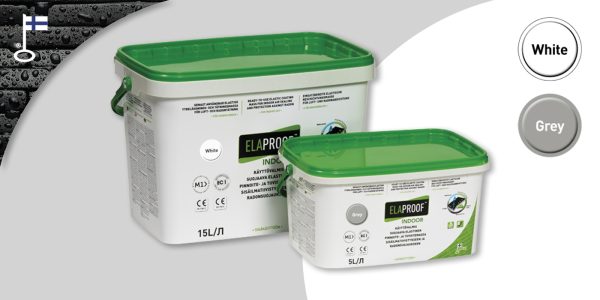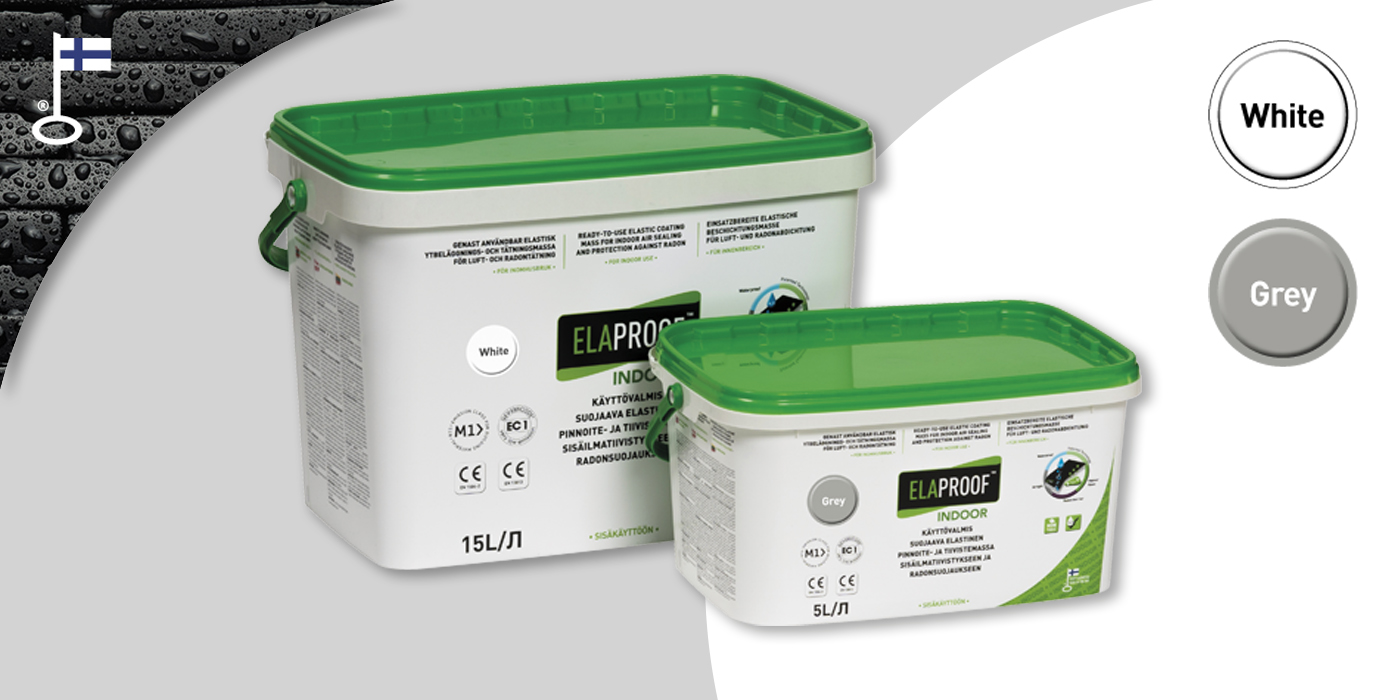 ElaProof Indoor
191,89 € – 391,88 €
Ready-to-use isocyanate-free coating for indoor air sealing and radon protection
Isocyanate free ElaProof Indoor is a ready-to-use one-component water-based coating for indoor air sealing and protection against radon. The unique elasticity and excellent adhesion of the product on various surfaces ensure safe and secure sealing. ElaProof Indoor has been granted the Finnish M1 emissions certificate. M1 certifies that it belongs to a group of construction materials which are with the smallest amount of emissions. ElaProof Indoor has also been awarded the pan-European certificate of products designed for indoor use – Emicode EC 1 and it bears the CE markings EN 1504-2 and EN 13813.
For healthy indoor air
It is vital to ensure clean and healthy indoor air both in new constructions and renovation. Sealing joints and air leaks and protecting against radon often prove to be the most critical aspects of structural maintenance. ElaProof Indoor keeps joints tight when buildings and structures shrink and expand. In indoor premises, the product dries fast while forming an airtight film – enabling you to proceed to the next work stage without waiting. Proper working methods and careful application in combination with the best building products ensure the best results.
5 good reasons to choose ElaProof Indoor!
• One product for indoor air sealing and radon protection
• Isocyanate- and solvent-free – safe for environment and people
• The best crack bridging ability on the market – 13,9 mm!
• Resistant to water and frost – can also be applied to wet surfaces
• M1-emission class and Emicode EC 1
ElaProof Indoor is listed in the Nordic Ecolabelling construction product database and can be used in Swan-labeled buildings.
Application areas